Your TV Guide to the Week
Your TV Guide to the Week - July 6th, 2020
Title: White Noise
Length: 1hr 41min
Mood: Drama, Horror, Mystery
Director: Geoffrey Sax
Starring: Michael Keaton, Deborah Kara Unger, Ian McNeice
After his wife Anna's unexpected death, Jonathan Rivers is contacted by Raymond Price, a man who lost his son and dedicated his life to helping others find peace. Raymond claims he has been receiving messages from Anna through EVP (Electronic Voice Phenomenon). Although sceptical at first, Jonathan soon finds himself obsessed with trying to contact Anna himself, thus making him sink deeper into the mysteries behind these supernatural messages.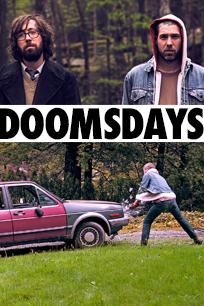 Title: Doomsdays
Length: 1hr 31min
Mood: Drama, Comedy
Director: Eddie Mullens
Starring: Leo Fitzpatrick, Justin Rice, Laura Campbell
This is the story of two aimless squatters Dirty Fred and Bruho who wander from one lavish vacation home to another, breaking in and making themselves at home in the Catskill Mountains. However, their carefree, arrogant and "seize the day" type lifestyle is questioned when they take in a runaway boy and an aimless young woman.
Title: Detachment
Length: 1hr 38min
Mood: Drama
Director: Tony Kaye
Starring: Adrien Brody, Christina Hendricks, Marcia Gay Harden
Henry Barthes is a substitute teacher who drifts from school to school, purposely avoiding an emotional or personal attachment to his colleagues or students. His new assignment places him at a public school where he rediscovers his own personality and connects with three different women who also help him come to terms with both the tragic suicide of his mother and nearing death of his grandfather.
Title: Palto Alto
Length: 1hr 40min
Mood: Drama
Director: Gia Coppola
Starring: Emma Roberts, James Franco, Jack Kilmer
A group of disaffected high school students in Palto Alto who often engage in self-destructive behavior and the happenings of their life and struggles. Shy and sensitive April engages in a dangerous relationship with her soccer coach, Mr. B while Fred, Teddy and Emily explore their sexuality.
Title: Flawless
Length: 1hr 48min
Mood: Drama, Crime, Thriller
Director: Michael Radford
Starring: Demi Moore, Michael Caine, Lambert Wilson
An aging yet scheming maintenance man and an savvy American executive who form an unlikely alliance in order to carry out an elaborate jewel heist steal a handful of diamonds from their employer, the London Diamond Corporation.
Title: The Thieves
Length: 2hr 15min
Mood: Action, Comedy, Crime
Director: Dong-hoon Choi
Starring: Kim Yoon-seok, Lee Jung-jae, Kim Hye-soo, Jun Ji-hyun
A band of elite thieves are planning to steal a $20 million diamond from a casino vault in Macau. With a mix of Oceans and Mission Impossible, the crew have to find ways to get into this impenetrable vault and keep their loyalty to each other.
Title: A Company Man
Length: 1hr 36min
Mood: Action, Drama
Director: Sang-yoon Lim
Starring: Ji-seob So, Mi-yeon Lee, Do-won Kwak
Hyeong-do works for a metal fabrication company that is actually a front for an organization of professional hit men, and Hyeong-do is considered one of the best contract killer in the industry. One day he meets and falls in love with Mi-yeon, a single mother and tries to resign from his job to the dismay of his employers. Soon, he becomes the target of his ex-company.
Title: All Things Men
Length: 1hr 24min
Mood: Action, Drama, Crime
Director: George Isaac
Starring: Gabriel Byrne, Rufus Sewell, Toby Stephens
Detective Parker is ready to do whatever it takes to take down a notorious crime lord, even if it means breaking the law himself. He turns to a known criminal for help and the thin line between right and wrong are blurred. A deadly game of cat and mouse is ignited between a maverick cop, a London crime boss and a thief.