This Week's Guide to Must-Watch Free TV -- Oct 14, 2021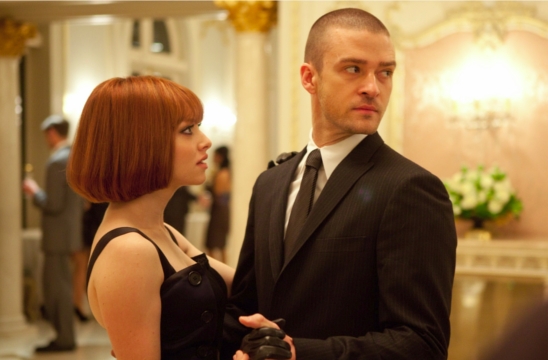 Your TV Guide to the Week - Oct 14th, 2021
Length: 1hr 49min
Mood: Action, Sci-Fi, Thriller
Director: Andrew Niccol
Starring: Amanda Seyfried, Justin Timberlake, Alex Pettyfer
In the future when the aging gene has been switched off, people must pay to stay alive. To avoid overpopulation, time has become the currency that people use to pay for luxuries and necessities from a clock implanted in their forearm. The rich can live forever, while the rest try to negotiate for their immortality. A poor young man is accused of murder when he inherits a fortune of time from a dead upper class man. He is forced to go on the run from a corrupt police force known as 'time keepers'.
Length: 2hr 19ins Mood: Action, Adventure, Drama
Director: Andrew Davis
Starring: Kevin Costner, Ashton Kutcher, Neal McDonough
Ben Randall is a Coast Guard rescue swimmer. When his crew is killed in an accident and his marriage ends, his commander tells him he wants Randall to go to the US Coast Guard Rescue Swimmer "A" School to train other rescue swimmers. He encounters a guy named Jake who's a little cocky because he was once a swim champion. So Ben puts him through the wringer to see if he can handle it.
Length: 1hr 38min
Mood: Action, Adventure, Horror
Director: Tod Williams
Starring: John Cusack, Samuel L. Jackson, Isabelle Fuhrman
When a strange signal pulsates through all cell phone networks worldwide, it starts a murderous epidemic of epic proportions when users become bloodthirsty creatures, and a group of people in New England are among the survivors to deal with the ensuing chaos after.
Length: 1hr 53mins
Mood: Drama, Mystery, Thriller
Director: Gary Fleder
Starring: Michael Douglas, Sean Bean, Brittany Murphy
A group of thieves steal a rare gem, but in the process, two of the men double cross the leader of the thieving group, Patrick, and take off with the precious stone. Ten years later, prominent psychiatrist, Nathan Conrad, is invited to examine a disturbed young woman named, Elisabeth. Patrick immediately kidnaps Nathan's daughter, forcing Nathan to attempt to get Elisabeth to reveal a secret number which will ultimately lead Patrick to the whereabouts of the precious gem that has eluded him.
Length: 1hr 57min
Mood: Crime, Drama, Thriller
Director: Ridley Scott
Starring: Michael Fassbender, Penélope Cruz, Cameron Diaz
A rich and successful lawyer, the Counselor, is about to get married to his fiancée but soon becomes entangled in a complex drug plot with a middle-man known as Westray. The plan ends up taking a horrible twist and he must protect himself and his soon to be bride as the truth of the drug business is uncovered and targets are eliminated.
Length: 1hr 47min
Mood: Drama, Thriller
Director: Nicholas Jarecki
Starring: Richard Gere, Susan Sarandon, Tim Roth
Robert Miller is a successful financial businessman with a loving wife and a smart daughter ready to take over the family business. Professional secrets involving illegal fraudulent activities start coming out at the same time that Robert's personal secrets take a turn for the worse and threaten to derail everything he has achieved.
Length: 1hr 39min
Mood: Horror, Adventure, Thriller
Director: Neil Marshall
Starring: Shauna Macdonald, Natalie Mendoza, Alex Reid
A woman goes on vacation with her friends after her husband and daughter encounter a tragic accident. One year later she goes hiking with her friends and they get trapped in the cave. With a lack of supply, they struggle to survive and they meet strange blood thirsty creatures.
Length: 43mins Mood: Animation, Comedy Creators: Gabrielle Allan, Jennifer Crittenden, Clea DuVall
Starring: Lisa Kudrow, Clea DuVall, Nat Faxon
A dog named Honey who runs group therapy sessions to help neighborhood animals manage the neuroses brought on by their owners and each other.