This Week's Guide to Must-Watch Free TV -- Nov 18, 2022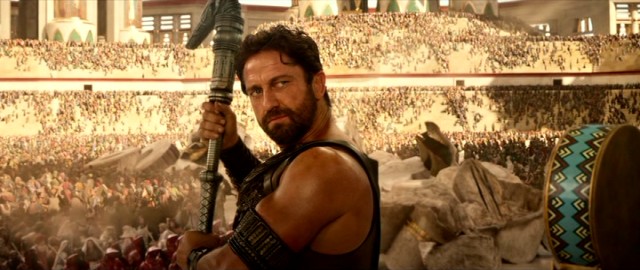 Your TV Guide to the Week - Nov 18th, 2022
Length: 2hr 9min
Mood: Action, Biography, Crime
Director: Marc Forster
Starring: Gerard Butler, Michelle Monaghan, Michael Shannon
Sam Childs is a real-life ex-biker gang member. He decides to turn his life around by heading to East Africa to help repair homes that have been destroyed by civil war. He is affected by the plight of the people, especially the children. Against advice, he begins building an orphanage in militia territory. He also goes on an armed mission to rescue the children who have been kidnapped by the militia - who are being taken and forced to become child soldiers.
Length: 2hr 1min
Mood: Action, Fantasy, Thriller
Director: Len Wiseman
Starring: Kate Beckinsale, Scott Speedman, Michael Sheen
Selene, a vampire warrior, is entrenched in a conflict between vampires and werewolves, while falling in love with Michael, a human who is sought by werewolves for unknown reasons.
Length: 2hr 7min
Mood: Action, Adventure, Fantasy
Director: Alex Proyas
Starring: Nikolaj Coster-Waldau, Brenton Thwaites, Chadwick Boseman
Set, the merciless god of darkness, has taken over the throne of Egypt and plunged the once peaceful and prosperous empire into chaos and conflict. Few dare to rebel against him. A young thief, whose love was taken captive by the god, seeks to dethrone and defeat Set with the aid of the powerful god Horus.
Length: 1hr 47min
Mood: Action, Comedy, Crime
Director: Kevin Smith
Starring: Bruce Willis, Tracy Morgan, Adam Brody
Jimmy's rare baseball card is robbed. Since it's his only hope to pay for his daughter's upcoming wedding, he recruits his cop partner Paul to track down the robber, a memorabilia-obsessed gangster.
Length: 3hr 3min
Mood: Action, Drama, History
Director: Michael Bay
Starring: Ben Affleck, Josh Hartnett, Kate Beckinsale
A tale of war and romance mixed in with history. The story follows two lifelong friends and a beautiful nurse who are caught up in the horror of an infamous Sunday morning in 1941.
Length: 2hr 45min
Mood: Drama, Western
Director: Quentin Tarantino
Starring: Jamie Foxx, Christoph Waltz, Leonardo DiCaprio
In the late 1850's, former dentist turned bounty-hunter Dr. King Schultz buys the freedom of a man named Django from a slave trader duo in a quest to find and kill some men he wants dead. Afterwards, Django sets out with help from Schultz to find and rescue his wife Broomhilda who like him was sold into slavery by an anonymous owner. Their journey takes them to a plantation called Candieland, owned by a ruthless tycoon. Also, they come to some suspicions of the head slave named Stephen.
Length: 1hr 26mins
Mood: Action, Crime
Director: Kevin Bray
Starring: The Rock, Johnny Knoxville, Neal McDonough
A former U.S. soldier returns to his hometown to find it overrun by crime and corruption, which prompts him to clean house.
Length: 21 mins
Mood: Comedy
Creator: Suzanne Martin
Starring: Patrick Warburton, Carrie Preston, Miranda Cosgrove
Mike and Martina Moore put aside their plans and newfound freedom when their two adult daughters, Stella and Shea, unexpectedly move back into their Seattle home after college graduation to figure out what they will do with their lives. Mike also learns that his retired father Bob and his stepmother Alice have decided to stay in town to help with Stella and Shea instead of moving to Florida. The family has to learn to live together again, despite the reluctance of Mike and Martina.