This Week's Guide to Must-Watch Free TV -- Feb 25, 2022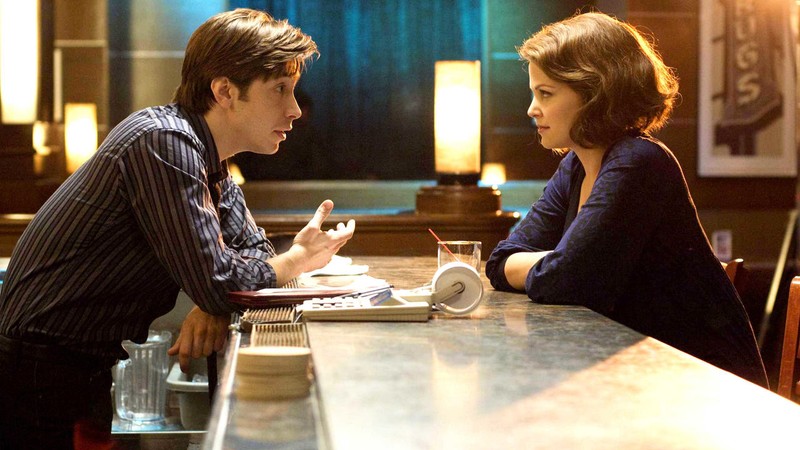 Your TV Guide to the Week - Feb 25th, 2022
Length: 2hr 9min
Mood: Comedy, Drama, Romance
Director: Ken Kwapis
Starring: Ben Affleck, Jennifer Aniston, Drew Barrymore
In Baltimore, five women and four men try to sort out the signals that the sexes exchange. Gigi imagines every man she meets is Mr. Right; she gets reality checks from Alex, a sweet but cynical saloon keeper. Janine and Ben seem solidly married until he chats with Anna in a market checkout line; meanwhile Anna is indifferent to the pursing Conor. Neil and Beth have been together seven years; she dumps him when she realizes he really and truly isn't going to marry her. And Mary sells advertising while searching online for a man. Will those in love stay in love? Will those searching figure out who is and who isn't into them?
Length: 1hr 52min
Mood: Comedy, Drama, Romance
Director: Edward Zwick
Starring: Jake Gyllenhaal, Anne Hathaway, Oliver Platt
Jamie dallies with the manager's wife and loses his job selling electronics. He takes his smile to Pfizer, becoming a drug rep in Pittsburgh. While trying to convince an internist to prescribe Zoloft instead of Prozac, Jamie meets Maggie, whose wit and energetic sex without attachment match his feckless charm. Early-onset Parkinson's adds to her mistrust of attachments. Jamie starts to fall for her about the time Viagra hits the market and makes him a sales superstar. When he becomes her knight errant in quest of a cure, she makes it clear that pity, entangling alliances, and being defined by her disease are off the table. Can't she just have fun?
Length: 1hr 38min
Mood: Comedy, Romance
Director: Gary David Goldberg
Starring: Diane Lane, John Cusack, Dermot Mulroney
Sarah Nolan, a recently divorced thirty-something-year-old, has a family that just can't help getting involved in her personal life, or lack there of. After her sister puts her profile on PerfectMatch.com, this preschool teacher goes on a number of outrageous and hilarious dates. But will she be able to find the one, who must love dogs?
Length: 2hr 1mins
Mood: Action, Adventure, Crime
Director: Ron Howard
Starring: Tom Hanks, Felicity Jones, Irrfan Khan
When Robert Langdon wakes up in an Italian hospital with amnesia, he teams up with Dr. Sienna Brooks and they race across Europe together against the clock to foil a deadly global plot.
Length: 2hr 20min
Mood: Action, Crime, Drama
Director: F. Gary Gray
Starring: Samuel L. Jackson, Kevin Spacey, David Morse
In the midst of an elaborate conspiracy, an expert negotiator is driven to the edge when he's framed for the murder of his partner, as well as embezzling money from his department's pension fund. His only chance to prove his innocence is to take hostages himself, acquire the services of another expert negotiator, and find out who's running the conspiracy before it's too late.
Length: 1hr 30min
Mood: Action, Thriller
Director: William Kaufman
Starring: Cuba Gooding Jr., Cole Hauser, Jonathan LaPaglia
In Spokane, an elite government killer goes rogue on the day that engineer Allen Campbell loses a promotion and finds his best man with his wife. Allen goes drinking that night and chats up a stranger who turns out to be Jonas, the hit man. Jonas asks Allen to give him a list of five people he'd like to see dead, so a drunk Allen lists his boss, the guy who got the promotion, a nasty bookie, the best man, and his wife. By the next morning, the boss is dead, and Allen realizes Jonas is for real. Can he stop Jonas?
Length: 1hr 26min
Mood: Action, Crime
Director: Brett Donowho
Starring: Bruce Willis, Cole Hauser, Shawn Ashmore
When his fiancee is kidnapped by human traffickers, Roman and his ex-military brothers set out to track her down and save her before it is too late. Along the way, Roman teams up with Avery, a cop investigating human trafficking and fighting the corrupted bureaucracy that has harmful intentions.
Length: 43mins
Mood: Crime, Drama, Mystery
Creator: David Schulner
Starring: Ryan Eggold, Janet Montgomery, Freema Agyeman
Dr. Max Goodwin is a medical director at one of the United States' oldest public hospitals, aiming to reform the neglected facility by tearing up its bureaucracy to provide exceptional care to patients.