This Week's Guide to Must-Watch Free TV -- Dec 24, 2021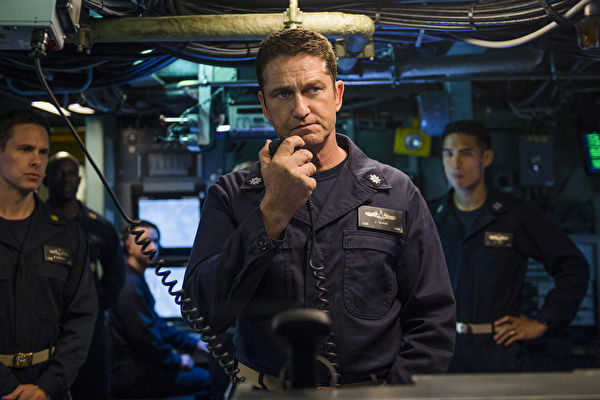 Your TV Guide to the Week - Dec 24th, 2021
Length: 2hr 1min
Mood: Action, Thriller
Director: Donovan Marsh
Starring: Gerard Butler, Gary Oldman Common, Linda Cardellini
A U.S. submarine, the USS Tampa Bay, vanishes while shadowing a Russian Akula-class submarine in the Arctic. Rear Admiral John Fisk sends a Virginia-class submarine, the USS Arkansas, under the command of newly-promoted and unorthodox Commander Joe Glass to investigate. At the same time, a Navy SEAL team under the command of Lieutenant Bill Beaman is sent in to discreetly observe a Russian naval base. When they arrive at the naval base, they witness defense minister Dmitri Durov conducting a coup d'etat and taking Russian President Zakarin prisoner, and swiftly realize that Durov intends to trigger a war.
Length: 1hr 52min
Mood: Biography, Crime, Drama
Director: Kevin Connolly
Starring: John Travolta, Spencer Lofranco, Pruitt Taylor Vince
Mob boss John Gotti reflects on his three-decade reign of crime in New York City. In 1972, as a young associate, he is tasked by Aniello "Neil" Dellacroce, underboss to the Gambino family, to kill gangster James McBratney, who is believed to be responsible for the kidnapping and murder of boss Carlo Gambino's nephew. Killing McBratney at a bar, Gotti becomes a "made man".
Length: 1hr 45min
Mood: Action, Adventure, Drama
Director: Paul W.S. Anderson
Starring: Kit Harington, Carrie-Anne Moss, Emily Browning
In the menacing shadow of 79 A.D. Pompeii's Mount Vesuvius, the orphaned and left-for-dead boy-turned-gladiator, Milo, must fight for his life in the bustling port city's blood-stained arena. Before long, the untamed former slave catches the eye of the city governor Severus' beautiful daughter, Cassia, and much to his surprise, an ardent but perilous romantic affair beyond social classes begins. Now, against the backdrop of an imminent catastrophic volcanic eruption, and the corrupt Roman Senator Corvus' unappeased wrath, the young couple must seek a way out, as rivers of sluggish hot lava and a rain of heavy black ash threaten to devour the small town. Can Milo put aside his wild desire for retribution for Cassias' sake?
Length: 2hr 4mins
Mood: Drama, Romance, Thriller
Director: Adrian Lyne
Starring: Richard Gere, Diane Lane, Olivier Martinez
Connie Sumner has a loving husband, a beautiful home, and a wonderful son, but she wants more. When she's approached one day by a handsome stranger while trying to hail a taxi, she becomes obsessed with him and eventually starts an affair. But her selfish actions soon catch up with her...
Length: 1hr 33min
Mood: Comedy, Drama, Romance
Director: Craig Johnson
Starring: Bill Hader, Kristen Wiig, Luke Wilson
When estranged twins Maggie and Milo feel that they're at the end of their ropes, an unexpected reunion forces them to confront why their lives went so wrong. As the twins reconnect, they realize the key to fixing their lives may just lie in repairing their relationship.
Length: 1hr 45min
Mood: Drama, Romance
Director: Götz Spielmann
Starring: Petra Morzé, Andreas Patton, Hary Prinz
Set in a faceless, concrete high-rise apartment complex on the outskirts of bustling Vienna, the stories of three diverse couples at crossroads interweave during three pivotal days. And, in the unending search for love, intimacy, and a fragment of pure ecstasy, three women become more baffled and vulnerable than ever. With this in mind, even though Alex, a real-estate agent, and Nicole are divorced, Alex finds himself unable to let go of the past. Likewise, Sonja, a supermarket checkout girl, is becoming increasingly jealous of her husband, Marco, and lastly, Eva, a doting mother and nurse, decides to seek excitement in all the wrong places, turning her life upside down.
Length: 1hr 45min
Mood: Action, Fantasy, Horror
Director: Timur Bekmambetov
Starring: Benjamin Walker, Dominic Cooper, Anthony Mackie
Exploring the secret life of the America's greatest president, Abraham Lincoln, and the untold story that shaped the nation. The president discovers blood-thirsty vampires are planning to take over the United States. Lincoln makes it his mission to eliminate them, becoming history's greatest hunter of the undead.
Length: 2hr 55mins
Mood: Biography, Drama, Music
Creator: Allan Arkush
A biographical look at The Temptations, the Motown soul vocal quintet who first came to fame in the 1960s, as seen from the viewpoint of the last surviving original member, Otis Williams. Beginning from their humble origins in the late 1950s and continuing through the 1990s and the deaths of the other original members.